Akashvani Imphal : A Unique Vanguard Of Manipuri Culture & Literature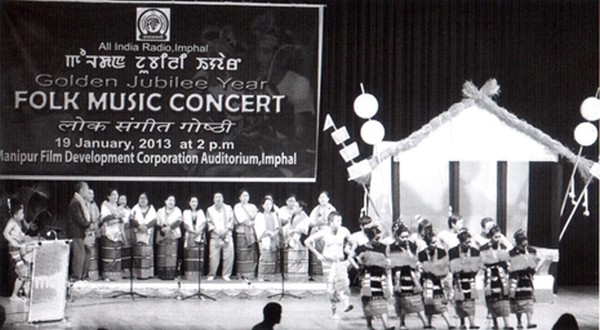 Besides feeding its listeners with news, views and entertainment, Akashvani Imphal has served as a unique institution for preserving the rich art, culture and literature of different ethnic groups in Manipur. During the last fifty years, Imphal station of All India Radio has dearly nursed, nourished, preserved and enriched the composite Manipuri culture and literature. Innovative programmes such as news analysis during bulletins, educational programme Atoppa Manga!', live Phone-in Interviews, Good Morning Manipur etc. have become feathers on the already enriched cap of AIR Imphal.

In an effort towards boosting its popularity and social image, Akashvani Imphal also organized important out-of-stu-dio ventures like Radio Shumang Lila Festival, Folk Music Festival, Kabi Sammelan and Musical Concert for peace, integrity and harmony. At the national level too, programmes produced and broadcast by Akashvani Imphal could earn laurels. May the AIR Imphal continue its smooth sail in the vast sea of waves.

Akashvani Imphal's endeavor for preserving the dying age-old folk music of various ethnic groups is worthy of appreciation. Observing its five decades of existence, Akashvani Imphal organized a Folk Music Concert manifesting the social obligation attached to this medium in nourishing the culture and tradition of the society. The portrayal of a variety of folk music performances of multitude of ethnicities on a same platform was ample proof that radio could well bring about emotional integrity of a composite Manipur.

In its fifty years of tuning, the All India Radio Imphal has progressed tremendously. From a mere single kilowatt radio service bom on National Independence Day in 1963, it has now grown to become the most popular mass medium reigning as the only vanguard of Manipuri culture and literature. The various informative and entertaining programmes transmitted through the waves of Akashvani Imphal are themselves the precious artistic and cultural elements of the various social groups of Manipur.

Khongjom Parva, Pena, Khunung Esei, Khulang Eshei, Wari Liba, Lairik Haiba Thiba etc. which are highly aesthetic and otherwise dying in the contemporary Meitei society have been under constant care and nourishment of Akashvani Imphal. Nat Sankirtan, Khubak Esei, Shumang Lila, Epom, Meitei Pung and so many other folk arts of numerous communities residing in the state have been being preserved and popularized by the Imphal Radio Station during the last half-a-century of its existence. What else or who else has been patronizing these valuable social assets for the posterity of Manipur ?

Manipuri Matamgi Esei' might not reach its present popularity and fame in the absence of Akashvani Imphal. Music pioneers such as Laishram Birendrakumar, Gurumayum Robindro, Shyam Sharma, Pahari, Iboyaima Sharma, Ashem Bimola, Bilasini, Kamala, Sanatombi Devi, Tombisana Sharma and a host of other artistes have deep-seated relations with Akashvani Imphal. Their uninterrupted growth and fame opportunely coincided with the progressive expansion of Akashvani Imphal.

Hundreds of beautiful lyrics and lyricists have been continuously born to AIR Imphal and attained maturity on its lap. Lyricists like B. Jayentakumar Sharma, Jodhachandra Sanasam, Thangjam Kora, Soraren, Dasen-dra Oinam, KC Nanda and many others could well express their emotions and pangs through the waves of Akashvani Imphal and in the tunes of Matamgi Esei





The erstwhile voice rendering of Thokchom Govind and Yengkhom Jugeshori in the guise of 'Mani-Mala' still remains extraordinary to radio listeners. Still today, Akashvani Imphal is producing quality anchors of their likes. The highly literary verses in the form of questions and answers in 'Chithi-Pokhum' still endear listeners. In addition to music, short plays, talks and discussions, reading of short stories and poems in youth programme has been a source of inspiration among the young generation. Akashvani is an unparallel treasure of music and literature.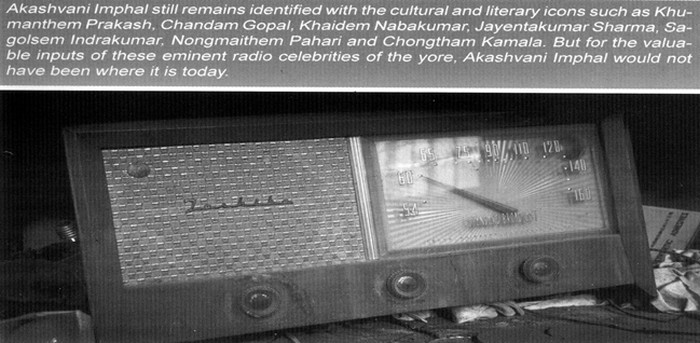 In health sector, Imphal radio has been providing valuable information to listeners in the form of talks, dramas, serials and features. Innovative educational programmes such as Atoppa Mangal, Science Magazine, English learning etc. have been introduced to benefit varied sections of listeners. Interviews with eminent personalities in the fields of arts and culture, sports, films etc. along with popular Manipuri songs are regular interesting programmes of AIR Imphal. Live Phone-in programme broadcast in Khonjel Nachom is also a very popular interactive session highly beneficial to the radio admirers.

Introduction of news analysis with experts during morning news bulletin is a very thought provoking programme of this station. Manipuri Language news bulletin was for the first time broadcast from Guwahati Station in May 1957 with Chandam Gopal as the newsreader. Later, with the opening of AIR Imphal on 15th August 1963, regular news broadcast started. R. Constantine was the first news editor of AIR Imphal and Maibam Haricha-ran was the first Manipuri news editor.

Names of RK Maipaksana, NK Sanajaoba, Lalago-pal Singh, Seram Mangi, Bimola Devi and Thoudam Imomacha were familiar to the radio news listeners in the early decades of Akashvani Imphal. Newscasts by Maibam Kamala, Ningthoukhongjam Chuni etc. can nearly replace the erstwhile voices of Bimola Devi. Voice of Lalgopal Singh which monopolized the Radio Newsreel years back has now been replaced by Wahengbam Washington and later Mehamud Khan. Ramakanta Sharma, Meghachandra and Hanjabam Priyokumar's moderating news discussions during morning bulletin are appreciated for clarity and rhythmic. In English, Hindi and tribal dialect programmes, there is no dearth of popular announcers.

Voices of some highly talented radio anchors such as Heigrujam Devendra, Yambem Tombi, Khwairakpam Minak-shi, Khangembam Sushila, Subash Athokpam etc. do not lag behind that of the renowned Nimi Mishra of Vividh Baharti. Live phone-in interviews and Top-10 Song programmes have find its branded suitability to the voice of Heigrujam Devendra which embodies clarity and an ideal speed.

Khangembam Sushila nicely adapts her voice to the anchoring of Science Magazine programme. Yambem Tombi's intellect of questions, interview techniques and vocal rhythm are appropriate to interviewing artists of all hues. Voices of Khwairakpam Mi-nakshi and Khwairakpam Sundar find their suitability to the Lou-U Sing-U Wapham of rural programme.

"Radio becomes closer to its listeners, Akashvani Imphal has successfully produced radio enthusiasts from among the millions of its listeners. Names of RK Upendra, Lucky Jaya, Ibohalbi Mangang, Faler Kom, Tilotama, Vivekananda, Laishram Hemanta, Biren Kongba, Inaobi Wahengbam, Ema Ahanbi etc. are frequently heard in the radio sets. No¬where is it heard that radio listeners have spontaneously leagued themselves and are constantly monitoring the radio programmes. Thanks to the hundreds of radio fans who continuously feed inputs for further development."

Overall, the Akashvani Imphal has now earned the reputation of being the best and most popular mass medium which caters to the varied information needs of Manipuris. It is the only medium that can counter the negative influences of foreign visual media on young minds.

All sections of people reap the benefits of radio programmes. From the illiterate farmers and housewives to scholars and intellectuals, from the toddling kids to the aged genre of the society; none is left out and unattended by the varieties of radio programmes. Radio is inexpensive, its programme production being cheaper than those of television.

Elaborate arrangements for materials, setting, costumes, make-ups etc. are not required. Radio is a mobile medium which one can listen to even while working in the fields or driving a vehicle. Messages through radio are instantaneous and suitable to both literates and illiterates. Considering the added advantages of the radio, many private and public agencies use it as messengers to the huge masses.


Read article:&nbsp: The Third Ibobi