The Third Ibobi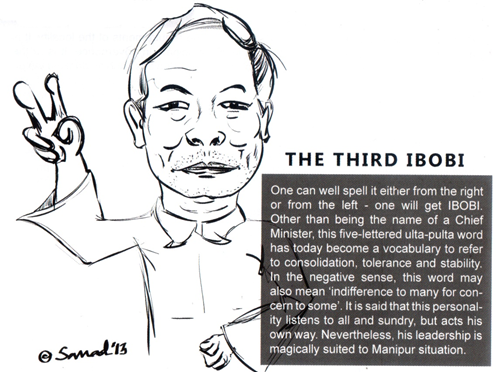 After a magical win in 2012 general elections, the run-up for the musical chair started. "Yes to Ibobi" was considered the number one criteria for becoming Ministers with good portfolios. In his third innings, Shri Ibobi Singh added power and water supply to his priority list. However, Ibobi's 'Thoubal Inclination Factor' (THIC) in development works and appointments of all hues in the last one decade needs to be revised taking into account the equality and justice required for a healthy democracy. An MLA may well pay attention towards his/ her constituency only, but a Minister including the CM has to distribute his service to all parts of the state without any area-wise and communal prejudice.

Democratic governance is a two-way process. 'Whatever the ruler says is right', 'whatever the ruler does is good' etc. are the outdated political notions of the past which are highly contradictory to the modern, liberal and contemporary democracy. A strong opposition besides a free media, active pressure groups and an informed citizenry is the pre-requisite of a healthy democracy. No doubt, Manipur has a free press and numerous pressure groups working in different fields. Media has been playing its given role against all odds imposed by the government on one side and the various insurgent groups on the other from time to time. Many a times, the press community memorizes "Numit Kappa" legend of the land while trying to face the hardships of the two polarizations. Various pressure groups-though fractured and polarized within, are also serving as watchdogs in the society. But, an informed citizenry and an active opposition are a far cry in Manipur. There has been no opposition worth the name during the last one decade in Manipur. This time also, Shri Okram Ibobi Singh Ministry is lucky enough to have a namesake opposition in the legislature.

It is unfortunate for the people of the state that we do not have a strong opposition to voice our grievances. Role of opposition in a democracy is great as it has to constantly monitor the government functioning, to guide in policy formulation and planning, to rectify the misdeeds of the ruling party, to provide constructive advice to the government and also to mobilize public opinion on various emergent situation. It is the duty of the opposition party to initiate debates, deliberations and discussions to maintain the decorum of parliamentary democracy. Opposition has also to feed the people's aspirations back to the government in time.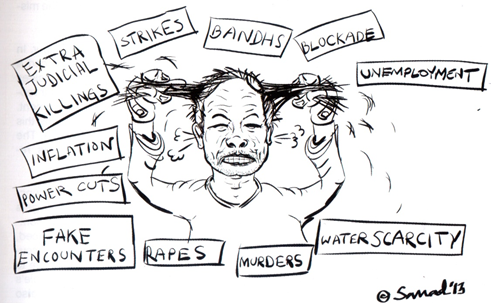 Erstwhile good debaters in Manipur Legislative Assembly such as Okram Joy, Dr. Nimaichand Luwang, N. Mangi, P. Parijat etc. failed to re-appear as none of the MPP and CPI candidates was elected during the 2012 general elections. Radhabinod Koijam, an eloquent legislator, was also forced to retire by the electorate of Thangmeiband Assembly constituency. Moreover, Dr. Ng Bijoy and RK Anand who occupied the opposition seats in the previous Legislative Assembly are now in the treasury benches. Although they have lots of oratory excellence and insight into situations, their loyalty to the leadership surely shuts their mouths on various eventualities. As witnessed in the last two regimes of Shri Okram Ibobi Singh, whoever appeared disloyal to his leadership was remunerated with misfortune. So, it was rightly termed the regime of Shri Ibobi's emperorship against which none could raise their heads.

Promises kept glorify the individual ministers, whereas non-attainment of assurances surely discredits Chief Minister O. Ibobi in the long run. Among the present ministers, a few are keeping mum. Some are highly active and innovative. Newspaper front pages for the last one year have been filled with promises of overhauling the degraded systems in their respective sectors. Concerning a few departments, some words become realistic to the public eye. A positive perspective in governance is expected with the new energetic ministers in the Ibobi Singh ministry swearing to bring in numerous innovations. Promises kept will certainly reveal the commitment and ability of the individual ministers while promises unattained will divulge the irresponsibility of chief minister O. Ibobi as he leads the mission. Negative results of the tall talks will boomerang on the state's leadership.

Sports, Art and Culture, and Tourism are important sectors that bring fame to Manipur. In spite of being a small and neglected border state of India, Manipur have produced a number of Olympians, Arjuna Awardees and Rajiv Gandhi Khel Ratna awardees, besides so many achievements in international arena. A number of sports persons of Manipur represent other states of India and the services sector due to apathy of the government. Sports is our priority, may be because of this that Shri Okram Ibobi heartily retains this sector to enliven the image of the state as a power house of sportspersons of India. The chief minister holding such important portfolios as Art & Culture, Tourism and Sports, reveals his priority concern on these sectors.

The observance of 'Sanaroising-gi Numit' in Manipur was ten times smaller than the function inaugurating the High Court Complex. This reflects the amount of attention sports gets in this land of powerhouse of sportspersons in India. The Khuman Lampak Sports Complex, the only premise from where numerous world-famed players have been produced, has remained neglected for years. Besides poor maintenance works of the complex, occupation of the buildings therein for purposes unrelated to games and sports is a hurdle to grooming the sportspersons. Hopefully, the present ministry is expected to fulfill people's wishes for a better sports management in Manipur. Power and MAHUD are also much-talked about sectors, as the state suffers from power meagerness and erroneous town planning. Incomplete sewerage projects, mismanagement of parking area and traffic congestion in city area are disturbing issues to be handled by MAHUD ministry. It is optimistic that power supply in the state will get a boost with the chief minister retaining this sector. Governance is a mission and sacrifice of selfishness among the governors. Apparently, some of the cabinet ministers have come out to work with a social service mission and political commitment. The Chief Minister assured adequate power and water supplies for the state during his swearing-in for the third time. Home Minister Shri Gaikhangam pledged to strengthen the police structure in remote hill areas. Industry Minister Govindas Konthou-jam affirmed for a suitable industrial policy of the state. Dr. Kh Ratankumar set on his highway improvement mission in the hill districts. Social Welfare Minister AK Mirabai expressed her initiatives for equity and quality provision of basic amenities. Rural Development and Panchayati Raj Minister Francis Ngajokpa personally inspected the develop-merit schemes taken up in hill districts and articulated his concerns for sub-standard works. Agriculture Minister Md. Nasir revealed his plans to seek possible central aide for development of agriculture sector. IFCD Minister Ngamthang Haokip chalked out plans for conservation and boosting of Singda Multi-purpose project. PHED Minister I. Hemochan-dra assured the completion of much-talked about sewerage project in Imphal by March next year. He disclosed plans for sea change in water supply in the state.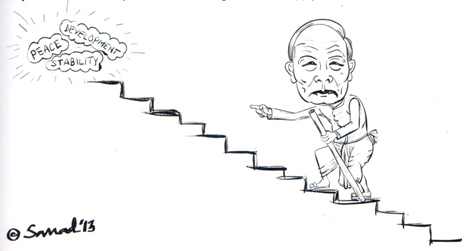 Among the new enterprises of the ministry, Shri M. Okendra's reformative initiatives in education and civil supplies sectors are gradually being materialized amidst odds and difficulties. Education had been the most notorious of the portfolios in previous ministries. It was indeed an untouchable portfolio among ministers, as those holding this sector rarely returned to power. Being the most corrupt and irregular department, education had almost lost public confidence and credibility during the last few decades. Quality education produces quality society. It is the most important sector which needs urgency and prioritization to bring about a civilized society. Fortunately of now, the people of Manipur find an academic, committed and energetic reformer in the person of Shri M. Okendra. He has come out with tall promises and has demonstrated certain actions in regard to education and civil supplies sectors.

The pledges of delivering LPG to domestic houses, of making available vehicle fuel round the clock and in sufficient quality, of smashing black marketers, so on and so forth are being appreciated by the people in all their earnest. Being a big challenge, reformation in education sector is the most welcome project of the young minister. He has fulfilled the pledge to finalize seniority list of teachers, which became unrealistic for the last three decades. Public participation in education reformation has also been apparent. Political commitment coupled with active involvement, sacrifice and dedication of the leadership is the need of the hour to realize dreams of reformation. Such a venture never surfaced in the Manipur political environment in the past, nor any minister vied for that.

Reformation in Education sector lies mostly in having good, academic and dedicated teachers in government schools. As there were rampant corruption and bribery in appointments of school teachers, the appointed teachers lack knowledge of the subject and teaching enthusiasm. Appointment based only on certificates and bribes can not produce quality teachers. Very unfortunate thing is average unemployed educated youths of the state turn to teaching profession, as their job avenues are scanty. Even wives of high ranked officers, MLAs and Ministers vie for teaching profession as their leisure-destination. Quality education lies in quality teachers. Numerous poor and well-experienced graduates serving in private schools could not become government teachers due to high corruption.

If possible, education revamping means appointment of quality teachers on the basis of complete knowledge test, not solely on certificates. The successful conduct of Teachers Eligibility Test (TET) is a big step towards quality appointment of teachers. Corruption should be completely shunned in teacher appointments. Existing teachers need regular refresher trainings to compulsorily update their knowledge regularly. Besides framing a rigid transfer and posting policy for teachers, there must be a Public Grievance or Public Relations Cell in School Education to listen to all kinds of complaints from guardians and public. Urgent actions regarding teacher attendance, learning inadequacies, provision of infrastructure and student amenities etc. may be taken up through the newly mooted Cell. The public hopes for good and commensurate actions from the young dynamic ministers.


Read article:&nbsp: Are we humiliating the father of the nation?