Vote For My Wife : Is It Women Empowerment?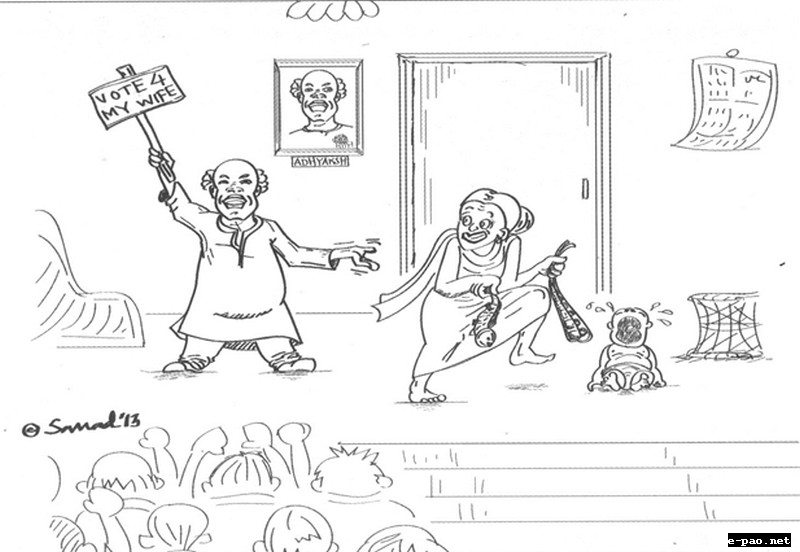 "Strong need to empower the better-halves of the community brings forth seat reservations for women in local government bodies. The ideal is that women will have their say in governance, they will advocate their needs and they will strive for their fulfillment. However. the reality is that men still take part in huge power sharing behind the women reservations theory. "

The man desperately retreated as his constituency seat turned out to be reserved for woman. Since the Pradhan candidate had already spent a huge sum in canvassing for the election, his withdrawal from the contest was not simply easy. He then opted to explore a feminine from his family. The man was again unfortunate enough that his better-half refused to surrender her government service.

Interestingly, he decided to put his only grand-daughter on to the candidature in his place. The tiny one who had used to serve tea for the visiting local-men a week back became the Pradhan-elect leader, while her grandfather began to bring out tea for the visitors at home. She then occupied the front seat of the Bolero, while the grand-father sat in the back. The desperate man began to say "Vote for my grand-daughter,.....Love my Grand-daughter" instead of the earlier slogan "Vote for me".

Man changed words from 'Love Me 'to 'Love my Wife ' with the election authority announcing seat reservations for women, in fact, seats were reserved for women in order to enable the other sex to have representations in the Panchayat organizations. It was done with a view to empower the women community to have their say in governance at the local level.

Can we call it real women empowerment, when the husbands put forward their wives in-their place with the aim of recouping the expenditure he has incurred in can vassing ? Notwithstanding the capacity and quality of the females in the family, the males take decision to upgrade their daughters, grand-daughters, daughters-in-law etc. to candidature, If the woman happens to be willing and efficient, her leadership is okay. If the woman happens to be unwilling and unqualified, then women reservation in local self-government will automatically lose its meaning. The man behind will consequently handle everything in his interests.

Leadership calls for unique qualities and there are also enough women leaders in each and every locality of Manipur. Meanwhile many quality women are reluctant to contest elections for fear of rich men who put forward their unqualified dear and near female figures. Money and muscle power still rules the Panchayat elections and it rests in the hands of the men-folk. In the midst of women empowerment measures, many males are still grabbing the power by putting up their wives, daughters, grand-daughters and daugh-ters-in-laws as candidates. Real empowerment is far in sight.

RTI : EMPOWERING THE PUBLIC

Very interestingly, the RTI (Right to Information) manifested its power in the form of criminalizing a number of former elected local leaders on the eve of elections for looting public money. It was very certain that local body elections would no longer be a big gamble, as being perceived by the candidates. Elected leaders would always fail to escape the RTI-empowered public vigil. Thank God, there would be no room for the cheaters.

As per the Right to Information Act, any citizen has the right to know how much money has been sanctioned, for which programme and how it has been implemented. The elected members can not hide the reality. If the information is made public, any false utilization will be turned into court case. So, the leaders of local bodies have nothing to gain after elected to power. Then, why were they spending much money in electioneering, why were they distributing cash to voters, why were they spending for feasting, parties and picnics ?

It was a silly thing that these candidates were apparently ignorant of the Right to Information Act. If elected to power, most of them desired to recoup the election expenses from the public funds allocated under their powers. Such days were already gone. They should have acknowledged the power of RTI. Whatever funds allocated, whatever plans approved and whatever programmes implemented, the people always have the right to know.

After the Panchayat polls 2012, innumerable RTI cases are expected to fill the desk of the Information Commission. A number of RTI activists and groups may emerge in the nook and corner of the state, as people have begun to feel the power of the Act. Meanwhile, many individuals with vested interests may resort to earning bribes from errant authority by threatening to lodge RTI complaints. It may well be presumed that a number of anonymous crimes may also crop up against these whistleblowers.

We may recall the murder of Mr. Satyendra Dubey who worked in National Highway Authority of India in 2003 for complaining against corruption in implementation of prime minister's Golden Quadrilateral road project in Bihar. The young engineer's life ended mysteriously when he tried to expose grave malpractice. In Manipur also, such crimes can not be unexpected in the midst of high level of corruption at all levels of governance.

Since inception, the Right to Information Act. has proved fruitful in Manipur as a number of citizens have got relief from injustice of the authority. At present, many Panchayat members, Pradhans and Zilla Parishad members have faced the music for misappropriation of public funds in connivance with concerned officials and banks machineries.

So far, a number of RTI applicants were compensated for delaying information disclosure by government departments. To mention a few, in July 2009 the then Director of Education (School) was made to compensate Rs 11,000/- to Thounaojam Raseshwar of Top Kho'ng-nangkhong, Imphal East for failure to provide information sought by the later. The matter was related to the pay revision of applicant's deceased wife who was a regular head mistress of Top Khongnangkhong Primary School. The Information Commission also made to compensate Pangabam Jiteshwari of Khongman Zone V with an amount of Rs 4000/-for failure to provide the list of beneficiaries, basis of their selection and receipts of the amount sanctioned under the Indira Awaj Yojna in the Khongman Gram Panchayat.

Allegations for misuse of OBC certificates cropped up in the recruitment of 72 women Sub-inspectors in 2011. OBC certificates were allegedly issued to sons and daughters of some high-ranking Government officials to sneak into the Home Department as Sub Inspectors. One Laishram Sanatombi of Yairipok Bishnunaha Mayai Leikai sought certain information through RTI from the Home Department and the Imphal West Deputy Commissioner about the DPC held for recruitment.

In a number of other cases related to recruitment of teachers by education department, supervisors by social welfare department, and those of Manipur Assembly Secretariat, applications successfully sought justice through RTI. In February 2011, a complaint has been lodged against denial of fund meant for material components amounting to Rs 22 lakhs under MGNREGS in connection with construction of about 4 km long road in Longpi Kachui village of Ukhrul district. According to the complaint, the fund had been allegedly withdrawn by the Deputy Commissioner and the Sub-Divisional Officer without any payment to the concerned villagers.

RTI (Right to Information) is a very effective and helpful mechanism for bringing about a healthy representative democracy in India. Citizens need to judiciously employ this weapon to redress their grievances due to the government. If the general public is not fully conversant with this people's right, then some vested interests may use the RTI for individual earnings. As corruption and favouritism have already crept into the system, it is feared that errant authorities may resort to criminality against RTI activists. So, the RTI activists need to be protected from any likely untoward activity by the corrupt.


Read article:&nbsp: About the Author