Are we humilating the father of nation?
A Dirty representative democracy in Manipur

Oh Bapuji! you are indeed the universal symbol of truth and non-violence. The nation feels very sorry to have your picture on currency notes which serve as source of all violence and vices. Atrocities, thefts and murders are executed either on payment of currency-notes or in yearning of the same. Drugs and illegal substances are traded with thick currency bundles. In every act of corruption and nepotism, currency notes exchange hands. People's democratic rights are sold and purchased with four digit notes. Sadly, Bapuji's picture is involved in all this misbehavior and violent acts.
Are we humiliating the father of the nation by putting his picture on currency notes?
Let us not use the picture of Gandhiji for de-constructing the society and for maligning democracy.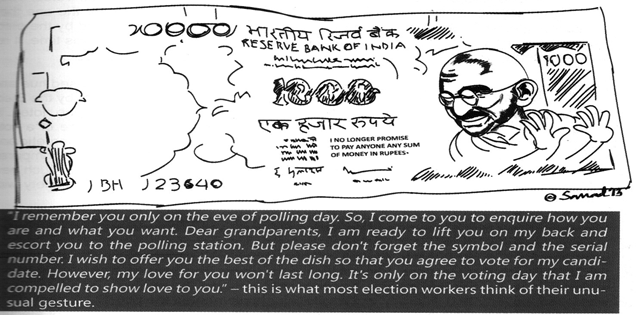 Election time love, compelled love, purchased love or whatever you can call it, we find it during polling days. The scene is highly emotional. Youths do escort their grandparents to the polling station. Sick, disfigured, neglected and ostracized elders get their wards' kindness on the election-day. Likewise, the leaders remember their electorate once in five years. For the rest of the days, no care at all. Thanks to elections, thanks to democracy, thanks to vote. If there were no election, the young people would have forgotten their elders for life. If there were no voting, leaders would have neglected their followers for all times to come. Right to vote is not only the right to vote, it is also the right to abstain from voting. If one does not like any one of the candidates, one can very well abstain from voting in exercise of the right to vote. In my locality, there is a man who never accepts money or anything for favour of vote. He really votes without any influence. On some occasion, the wife of a particular candidate offered a 'Pheijom' on the occasion of 'Cheiraoba'. This man returned the same to the candidate as soon as he came to know the hidden intention of the gift. Words fail to describe this man's character. I really appreciate him. No election worker is bold enough to offer money or meat to any of his family members for canvassing. Most candidates leave his house during house-campaigns for fear of scolds. His family is always omitted from the list of money distributors. I would say his vote is genuine and with conscience. He will be remembered by the posterior for his will. We need to imitate this man.

Election in representative democracy is not merely an event of a day, a week or a few months. It is a long term process. The election workers need to instill belief, love and sympathy of the electorate by helping them from the heart. There are voters who have received real kindness and lasting love of workers. None can purchase their votes. They might have got money from many candidates, but they will cast votes for the one they have the soft-corner. So, such soft-corner has to be developed and earned by the election workers and candidates by doing something good for the society. It takes time, it requires sincerity, it cannot come overnight. When the 10th Manipur Legislative Assembly Elections was over, we witnessed hue and cry of money, for money and by money, in spite of heavy strictures imposed by the Election Commission of India, votes were stealthily purchased with 2-3 digit rupee notes. In some constituencies belonging to superficially wealthy candidates, the price of a vote soared drastically. It was pathetic. Self-styled social workers who are new, energetic and young in politics were always on the lead to spend money in huge amounts as compared to the old politicians who were already in government and politics. Obviously such new brand people are going to spoil the political system. They will pollute the society with their black money.

Interestingly, elections to local self-governments have also imitated the trend. Panchayat elections have become more and more extravagant and subsequently dirtier year by year. Numbers of contestants as well as their expenses increased considerably during the 2012 Panchayat elections. In most local body wards, the picture was uglier than general elections. Money and muscle power always decided the people's mandate. Backwardness, poverty and illiteracy in the villages supplemented the political unconsciousness of the voters. This surely reduced the aesthetic democratic convention of electing true people's representatives to a farce.
Local-self government is a noble concept to listen to the varied and unique requirements of local people. As India is a vast country with a huge population, the governments at the centre and the federating units at the periphery can hardly fulfill the people's aspirations at the grassroots level. Moreover, the diversity of peoples, their cultural orientations, economic behavior and resources compels the rulers to adopt local-self government in the nook and corner of the country. Panchayat is an important institution which serves the requirements of the locality. It is also important as people at the grassroots level participate in governance. It is at the reach of the people, and it is easily accessible to them. Amenities such as drinking water, sanitation, playground, education, local resource utilizations, road connectivity and jobs for unemployed are dealt with by Panchayats. Hence, leadership in local bodies is very important and selection with pure wisdom is highly called for.

On what basis voters selected their leaders? Was it on the basis of the past report cards of the leaders or their personality postures? Or was it really the M factor (money & muscle) that counted in these elections? Frankly speaking, all burning issues prior to elections were sidelined and election was reduced to mere competitions for wealth.

Devolution of more powers to local bodies made grassroots democracy dirtier. Number of contenders for local body elections increased manifold unexpectedly, mostly lured by the huge funds for village development. Grassroots level leaders were not reluctant to spend more and more, in anticipation of recouping once they became elected. Feasting, picnics and tea parties were no less extravagant than those organized by supporters of Legislative Assembly candidates. No let up in distribution of cash was seen in canvassing, it was not amazing that candidates for Pradhan-ship frequented their voters in costly vehicles in hordes while expenses for Gram Sabha candidates were counted in lakhs. Lots of issues were there but none influenced the voting behavior. Past experiences proved that promises made on the eve of elections were not fulfilled after elections. Leaders shouted to woo voters, but voters did not heed on issues raised. As money was the only factor that garnered votes, it was well said that there was no election issue in Mani-





Development in Manipur villages was at stake everywhere. However, as the countdown for election-day started, the pathetic issues of village roads, drinking water, public toilets, housing jobs etc. were apparently sinking. The M factor raised its ugly head to tarnish the true meaning of democratic people's election. Most Manipuri citizens did not decide their votes on the basis of issues, personality merits and party preferences. They certainly casted votes on the basis of money and muscle power of the candidates and their agents. It can be rightly established that people of Manipur are not mature enough to participate as active citizens in a democracy. So also the development prospects remain dim even after sixty years of republic.


Read article:&nbsp: The Third Ibobi